Our recently updated NCFE CACHE Level 2 Award in Awareness of Dementia learning resource is an ideal course for anyone wishing to improve their knowledge and understanding of the condition. There are approximately 850,000 people in the UK who have some form of dementia and this is expected to rise above one million by 2025. The condition has many forms and causes a progressive decline in cognitive functioning that often affects a person's behaviour, memory, thinking, comprehension and judgement. This nationally-accredited, level 2 NCFE CACHE qualification is a great choice for those looking to enter the healthcare profession, such as a career in nursing or adult social care. It will also be beneficial to relatives wanting to know more about the condition and how they can support a loved one. In our learning resources that support this qualification, learners will explore the common types of dementia, their symptoms and possible causes. They will also gain an appreciation of a person-centred approach to dementia care. This is invaluable for anyone who supports clients, friends or family members diagnosed with dementia.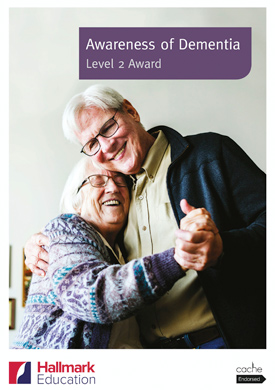 View more info on this course
Information for learning providers: The NCFE CACHE Level 2 Award in Awareness of Dementia ( Learning Aim Ref: 600/3095/1) is eligible for AEB funding. If you would like to request a free inspection sample, please get in touch via our
contact us
page.