Personal and Social Development
NCFE Level 1 Award & Certificate in
Personal and Social Development
Personal and Social
Development
These qualifications are designed to support learners who would like to develop their personal and social skills to prepare them for independence and working life. They will be particularly valuable to anyone who wishes to seek, gain and retain employment, or progress to further learning.
Hallmark has published a range of units that help learners to recognise the skills needed for their own personal and social development. These units can help learners increase their knowledge and understanding of key areas, such as environmental awareness, healthy living, managing personal
finances, and team work.
Award: 7 Credits / 70 GLH
Learning Aim Ref: 501/0672/7
Certificate: 15 Credits / 150 GLH
Learning Aim Ref: 501/0591/7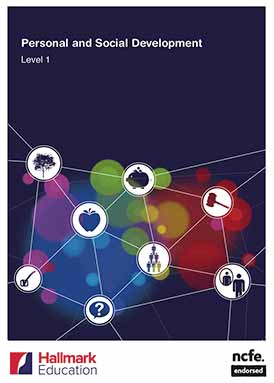 This learning resource is: