In October, 2015 Tribal Education made a number of strategic changes in order to focus on its core activity of student management systems and to extend its global reach. As a result, Tribal decided to withdraw from the publication and sales of learning materials, as well as subcontracted vocational learning delivery.
Rather than see the publishing side of the business disappear, two former senior managers of the Tribal (York) business and a long-standing author and associate decided to establish a new company that would maintain this part of the business. A partnership proposal to Tribal was subsequently accepted and a new company, Hallmark Education Ltd, was formed.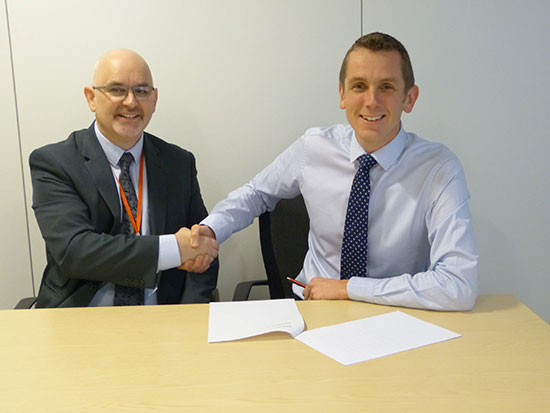 Joe Keegan (left), Operations Director at Hallmark and Nick Stevens (right), Managing Director at Tribal
Therefore, from January 1st 2016, Hallmark and Tribal are delighted to announce to the sector that Tribal's highly-respected learning resources will be available to purchase exclusively from Hallmark Education Ltd.
Tribal's Managing Director, Nick Stevens, commented: "We realise that many customers value the depth of knowledge content and assessment rigour that are implicit in our materials and we are therefore keen to ensure that customers still have access to the same high-quality resources and support via Hallmark. The senior management team at Hallmark have worked for the York-based business of Tribal for many years and have a wealth of experience in the FE and distance learning market. I wish them every success."
Joe Keegan, Operations Director at Hallmark, and former Director of Contracts and Commercial Services at Tribal, said: "We passionately believe that the learning resources are the best in the marketplace, particularly those in the arena of health and social care. It would have been a sad day if we had simply exited the market and left it to our competitors. We have built up some excellent relationships within the sector over the past twelve years and many of these have encouraged us to continue providing our solutions to the sector. We would like to thank Tribal for their support in this exciting new venture."