Care and Management of Diabetes
NCFE CACHE Level 2 Certificate in
Care and Management of Diabetes
Care and Management of
Diabetes
Around four million people in the UK have been diagnosed with diabetes. There are also thought to be around 850,000 people with undiagnosed diabetes. Although there is no cure for diabetes, careful management of the condition can help maintain blood sugar levels and control their symptoms.
As well as providing learners with a nationally recognised qualification, this course will help them apply good practice relating to the care and management of diabetes, giving them confidence in their work. Furthermore, as diabetes is prevalent in our society and current trends suggest more and more people will become diabetic in the coming years, the practical understanding that learners will acquire from this programme will be useful throughout their working and personal lives.
We have published a set of high-quality student learning resources to support providers delivering this qualification. There are four mandatory units in the qualification and we have presented these in two concise modular workbooks, together with all the necessary assessments. Get in touch to find out more.
Learning Aim Ref: 600/9311/0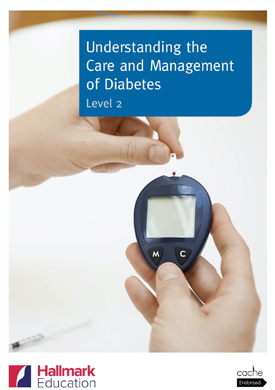 This learning resource is: