Principles of End of Life Care - Level 2
NCFE CACHE Level 2 Certificate in
Principles of End of Life Care - Level 2
Principles of End of Life Care -
Level 2
Everyone facing life-limiting illness will need some degree of supportive care in addition to effective treatment for their condition. This course is designed to provide candidates with a broad understanding of end of life and palliative care, enabling them to provide sensitive and appropriate support to people nearing the end of life and their families.
The course aims to develop the learner's knowledge and understanding of: the different perspectives on death and dying; the aims of end of life care; the principles of person-centred care planning; the support needed to manage pain and discomfort; how dementia impacts on an individual's end of life care; the role of the health and social care worker at the time of death, and how to appropriately support the bereaved.
Hallmark has published a set of high-quality student learning resources and assessments to support providers delivering this qualification. There are six mandatory units in the qualification and we have presented these in three concise modular workbooks.
Learning Aim Ref: 601/3818/X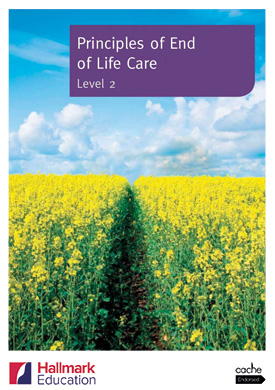 This learning resource is: