NCFE CACHE Level 2 Certificate in
There are around 700,000 people on the autism spectrum in the UK – that's more than 1 in 100. According to the National Autistic Society, if you include their families, autism is a part of daily life for 2.8 million people. In fact, in the last thirty years the number of people diagnosed with autism has increased 25 fold. This is because of a general increased awareness of autism, improved diagnosis and the inclusion of a wider range of forms of autism, such as Asperger syndrome.
This increased awareness has led to many improvements. There are now many fantastic examples of well-informed, inclusive and empowering environments that enable individuals with autism to thrive. However, individuals with autism and their families continue to face many problems and challenges, and these need to be tackled.
This qualification aims to develop the candidates understanding of autism and how they can support individuals with autism in a range of different contexts, whether they work in health, social care or children's or young people's settings. The course will also help candidates to understand the characteristics of the different forms of autism, and appreciate the importance of seeing each person with autism as a unique individual with a unique set of needs, strengths and abilities.
We have published a set of high-quality student learning resources to support providers delivering this qualification. There are six mandatory units in the qualification and we have presented these in three concise modular workbooks, together with all the necessary assessments. Contact us to find out more.
Learning Aim Ref: 601/6330/6
Certificate: 18 Credits / 152 GLH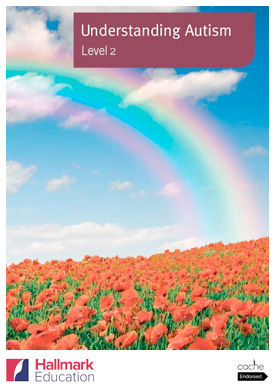 This learning resource is: