Understanding Common Childhood Illnesses
NCFE CACHE Level 2 Certificate in
Understanding Common Childhood Illnesses
Understanding Common Childhood
Illnesses
It is crucial that anyone caring for babies or young children in a personal or professional capacity, has a good understanding of childhood illnesses. This includes understanding why babies and children may become unwell, being able to spot the signs of a developing illness and knowing what to do in these situations.
Candidates begin this course by learning about a wide range of infectious illnesses that babies and young children are particularly vulnerable to. They will look at how these are commonly transmitted and the precautions that can be taken to reduce the chances of children developing an infectious illness or spreading it to others in an early years setting.
As well as infectious illnesses, candidates will also look at other conditions that can make a child unwell or distressed, such as asthma, diabetes and epilepsy. Babies and young children are also prone to accidents and these can cause them to become unwell, sometimes to the point where they become a medical emergency. The course concludes by looking at accidents and incidents that commonly involve babies and young children, such as bumps to the head (and possible concussion), burns and scalds and choking, focusing upon the actions staff should take in these situations to safeguard a child in their care.
We have published a set of high-quality student learning resources to support providers delivering this qualification. There are three mandatory units in the qualification and we have presented these in two concise modular workbooks, together with all the necessary assessments. Get in touch to find out more.
TQT: 142 (hours) / GLH: 120 (hours)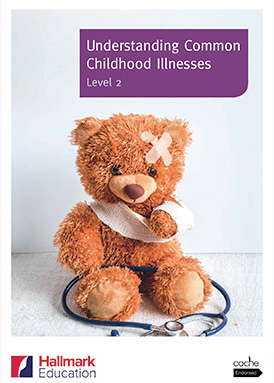 This learning resource is: