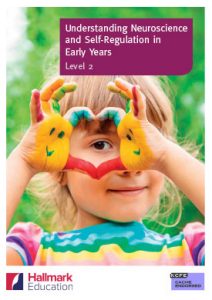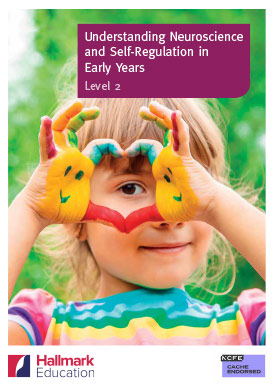 Our latest learning resource supports an exciting new qualification from the awarding organistion NCFE CACHE – the Level 2 Award in an Introduction to Neuroscience in Early Years. This thought-provoking qualification combines two highly topical themes within child development and early years provision – neuroscience and self-regulation.
Neuroscience has given us some remarkable insights it has given us in terms of how the infant brain develops, and how this is affected by a range of external influences. For example, advances in technology mean we can now see the damaging effects that stress, trauma and a lack of adult care and affection can have on the developing structures of the brain and how these can detrimentally affect learning and behaviour. Conversely, we can also see the powerful and positive effects of affectionate and responsive caregiver relationships and of nurturing care environments.
Self-regulation refers to a child's ability to understand and manage powerful emotions such as fear, anger and sadness. Children are not born with these skills; they develop them over time when they are supported to understand their feelings and actions by caring and responsive adults.
We've teamed up with award-winning author Dr Mine Conkbayir to develop a set of high-quality learning resources to support providers delivering this qualification. Mine has written numerous publications on neuroscience and self-regulation and is winner of the Nursery Management Today (NMT) Top Five Most Inspirational People in Childcare Award.
As well as explaining the theory behind the science, our learning resource and the qualification it supports will provide learners with practical advice in terms of how to promote healthy brain development in the critical first seven years of life, and how they can support children to develop those vital self-regulation skills.
Whether it is in a personal or professional capacity, this course has relevance to anyone with an interest in child development and the factors that affect children's behaviour, emotional well-being and ability to learn. It is particularly relevant to early years practitioners, teachers and teaching assistants, childminders and those who work in children's services. It should also be a valuable aid to parents and other primary carers.
Information for learning providers:
The NCFE CACHE Level 2 Award in an Introduction to Neuroscience in Early Years (Qualification Number 603/5216/4) is eligible for AEB funding. If you would like to request a free inspection sample or need more information, please get in touch via our contact us page.