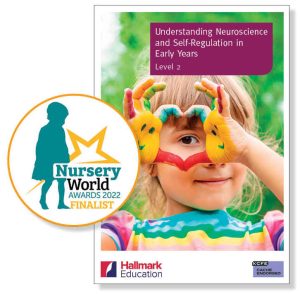 We're thrilled that our Introduction to Neuroscience and Self-Regulation in Early Years learning resource has been selected as a finalist at the upcoming Nursery World Awards (Professional Book of the Year category). These are books that stand out above others in supporting the knowledge and practice of early years professionals.
This annual awards ceremony is the one of the most in the most prestigious in the early years sector. This year, our textbook and associated learning materials to support the NCFE CACHE Level 2 Award in an Introduction to Neuroscience in Early Years has made it all the way to the final. An expert panel of judges must decide between seven excellent publications.
Nominees for the Professional Book of the Year, 2022:
A Guide to SEND in the Early Years by Kerry Murphy, Bloomsbury Education
Alphabet Rhyme Time by Michelle Larbey, Learnwell Trading Ltd
Discover Creativity with Babies by Louise Day, Routledge
How to recognise and support Mathematical Mastery in Young Children's Play. Learning from the 'Talk for Maths Mastery' Initiative by Di Chilvers (Ed), Routledge
Introduction to Neuroscience and Self-regulation in Early Years by Dr Mine Conkbayir, Hallmark Education
Observing Gabby: Child Development and Learning, 0-7 Years by Cath Arnold, Open University Press
Playful Mathematics by Helen J Williams, SAGE Publishing
We're super proud of our publishing team for producing a visually beautiful resource and to the author, Dr Mine Conkbayir, for her amazing content. They've worked extremely hard to make important, but complex material accessible to all.
We're up against some big hitters in the academic publishing world here – Roultledge, the OU Press to name but a few – but this is the league we want to be in.
You can follow the awards here https://www.nurseryworldawards.com. Good luck to the nominees in all categories!
Information for learning providers:
The NCFE CACHE Level 2 Award in an Introduction to Neuroscience in Early Years (Qualification Number 603/5216/4) is eligible for AEB funding. If you would like to request a free inspection sample or need more information, please get in touch via our contact us page.